Whilst reviewing and watching over London Fashion Week SS16, I realised that the industry has a lot to learn. I don't mean in terms of design; I think that's rather subjective and you can't really say what's wrong or right (more, I like that, I don't like that). I mean more in terms of the actual selling of the shows; things like the atmosphere and the models. So when I watched the ASHISH SS16 show, I felt truly inspired. (Images via VOGUE.co.uk)
If you look at the majority of shows, they're usually just standard presentations or catwalk displays. I'm not saying I'm uniterested because the clothes do most of the talking but there is just something lacking from it all. The main disappointment really is the whole model issue.
Seeing 30 or more white, slim and slender models walk down a catwalk in a line with blank faces and a ghostly walk, really does put you off sometimes. I often feel like you see the word 'aesthetic' thrown around when it comes to this topic but I don't believe that is quite a good enough excuse. Okay if you want your model line-up to look like a symmetrical army it might work but where is the realism?
This is where I believe ASHISH get it spot on; they have fun with there shows and they make things look more alive in such an attractive way. I know that not all design houses would send their models down the catwalk on skateboards but why doesn't anyone else really go for it?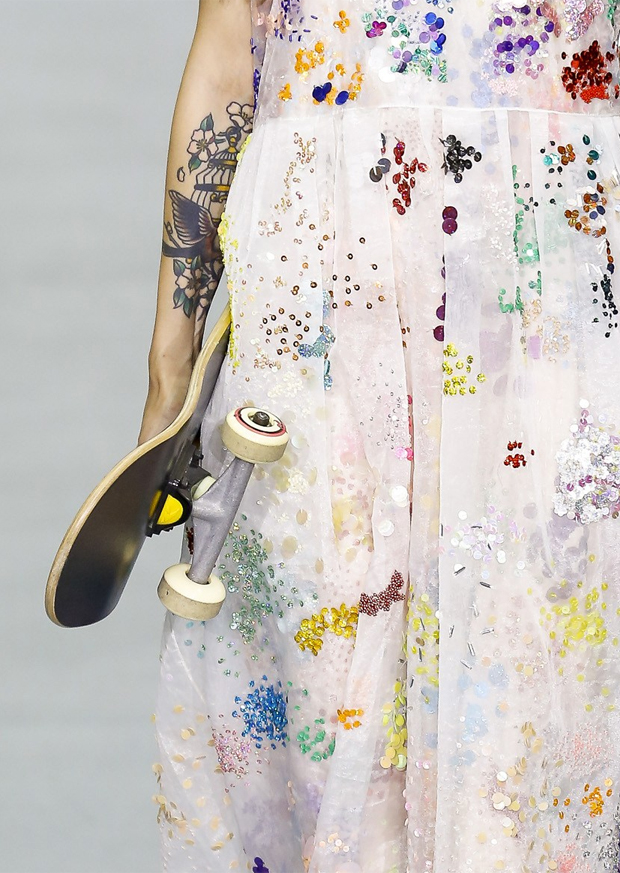 I'm sure there are many examples of fun and diverse shows (in fact, I was watching Alexa Chung's VOGUE series and Body Map was mentioned but that was back in the 80s) ASHISH just seems to stand out season after season.
Speaking of diverse shows; diversity plays a big role in the importance of ASHISH in the industry. Their model line-up is always diverse in terms of racial acceptance, and even genders with men and women strutting their stuff to be accepting of the unisex trend. It's just SO refreshing and it really does just wake you up when you see it in action. You realise that what we are seeing in magazines or on the runways is just. not. enough.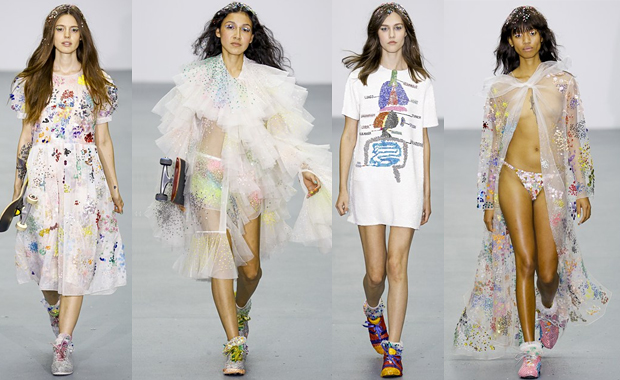 I will be honest and say I'd love for ASHISH to go one step further next season and cast models of all different shapes and sizes to broaden the diversity, because that would be the cherry on top. But on the whole, I don't see many other designers making such a big mark on the industry.
Plus, the SS16 show was incredible. It was collection full of such a beautiful mess that just shouted out loud "I DON'T CARE!". It was a collection for anyone and everyone to express themselves in, which sums it all up really. That my friends, is why ASHISH play a big role in bringing diversity to fashion.
---
What are your thoughts on the topic? What do you think of ASHISH SS16? Let me know in the comments!
---
Lots of Love… Tolly Dolly Posh xx