I thought it would be good for the bloggers and nominators of the Posh Fashion Awards to get to know the sponsors! As there are quite a few, it will be in 2 parts. Below you will find what the brands are all about, a little about the prizes they will be awarding, and the categories in which they are sponsoring! There are some real gems up for grabs!

Illamasqua will be sponsoring: Best Beauty Blog, Best Beauty Vlog, Best Unique Blog, Best Use of Photography and Best DIY Blog.
Illamasqua is a global cosmetics brand supplying unique products to beauty lovers. Illamasqua are a brand which want their users to experiment with the products and mix up their make-up. Whether it's using neon on your eyes, or purple on your cheeks, there is something new and creative which may just spark your imagination. Illamasqua will be providing a goody bag to the winners with 4 little treats in them as a congratulations.

CutECOsmetics will be sponsoring: Best Teen Blog
CutECOsmetics care about the ingredients which beauty lovers use every day. They provide all the basics for you, but making sure that they have eco-friendly, or vegan ingredients in them! CutECOsmetics will be supplying a goody bag worth £100! Full of skincare/balms/make-up etc.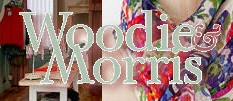 Woodie and Morris will be sponsoring: Best Lifestyle Blog
Woodie & Morris is a British brand bringing classic and modern pieces together. Whether you love looking after your skin, or you want a perfect watch for summer, there is something for everyone. Woodie & Morris will be providing an Olivia Burton watch (Worth upto £68.00) and some REN Skincare Goodies!

Peggy Collection will be sponsoring: Best Newcomer
Peggy Collection offers unique knitwear designs in array of colours and knits. Both for men and women! Keeping you warm and cosy in the warmer months, or just adding that pop of colour in Spring! You can find a cute pair of gloves, a nice scarf or even some jewellery online! Peggy Collection will be providing chunky knit scarf!
You can find more information about the Posh Fashion Awards here, and the T&Cs here.
If you have any questions about the Posh Fashion Awards, make sure to leave a comment, or tweet me: @PoshFashAwards Or, you can email me: awards@tollydollyposhfashion.com
Lots of Love… Tolly Dolly Posh xx